A weekly posting of some good reads on the internet and beyond. (I know, right? There are things to read that aren't on the internet?!?! Shocking.)
This is one of those 'so true it's funny' articles. What kind of Pinner are you? If I'm being honest, I'd say I'm a combination of the bookmarker and the procrastinator. But I have freinds that I follow who span all types.
Do you love vanilla? Do you use vanilla in baking or for….um….other reasons?
You might be in for a not so happy surprise the next time you go to the store to restock your vanilla supply.
Not only is the price of the pods themselves going up, but things made with vanilla have already seen price increases. Vanilla ice cream, I'm talking to you.
This article has my name all over it. Uniting my love of all things math (read: nerdy) and all things baked (read: donuts), scientists have discovered the perfectly shaped donut to hole ratio.
That is a scientific study that I can get down with. I'd fund that for sure.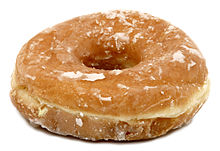 Figure 1. Mathematicians prove that the best doughnut has a small hole (top image courtesy of geom.uiuc.edu/~banchoff, thanks to Tom Banchoff, all rights reserved; bottom image courtesy of Wikipedia creative commons
And since this weekly round up is all about food….
Is that lettuce that your favorite restaurant serves really organic?
Turns out, probably not. Or, if you are less cynical than I am, maybe not.
I'm almost done with my latest book – another Jen Lancaster book. I'm telling you, that woman is hilarious. HILARIOUS.
What have you been reading this week? Send some links of good articles my way!